Fifth Harmony

(In order from left to right) Lauren Jauregui, Camila Cabello, Dinah Jane Hansen, Normani Hamilton, Ally Brooke Hernandez

Origin:

United States

Genres:

Pop, R&B, Ballads

Years Active:

2012 - present

Labels:

Syco Music, Epic Records

Asociated Acts:

One Direction, Demi Lovato, X Factor USA Contestants

Website:

Members

Created on:

July 27th (As LYLAS),

October 31th (As 1432),

November 7th (As Fifth Harmony)
Fifth Harmony
is an American girl group, between the ages of 16-20, consisting of members
Dinah-Jane Hansen
,
Ally Brooke
,
Camila Cabello
,
Normani Hamilton
and
Lauren Jauregui
. After ending up in third place on the American version of The X-Factor, the group was signed by Simon Cowell and L.A. Reid's record labels,
Syco Music
and
Epic Records
. Their debut single is called
Miss Movin' On
.
Background
X Factor Formation (2012)
The group's members-Ally Brooke, Dinah-Jane Hansen, Camila Cabello, Normani Hamilton and Lauren Jauregui-all originally auditioned for the show as solo artists expecting to go trough live shows in the "Teens" and "Young Adults"  categories, but didn't make it past bootcamp. Knowing how talented all five girls were, the judges decided to give them another chance as a group on the last day filming BootCamp, July 27th, 2012. They wowed their mentor, Simon Cowell, and his guest advisor, Latin music superstar Marc Anthony, at Judges' Homes with their rendition of the Shontelle hit "Impossible", resulting in Cowell choosing them as one of four groups going to the live shows.
On the first week of competence the girls performed We Are Never Ever Getting Back Together and on the results show they had to perform Demi Lovato's Skyscraper in a sing-off with Sister-C, after getting into the Top 12, on week 2 they sang Chiristina Perri's A Thousand Years from the movie  The Twilight Saga: Breaking Dawn – Part 2. Having reached the fifth place on the results show of Week 2, on Week 3 (Divas Week) they performed Mariah Carey's Hero and reached the sixth place on the leaderboard. On Week 4 they sang I'll Stand By You by The Pretenders, taking the seventh place on the results show. On Week 5, Hernandez's grandfather passed away and the girls dedicated their performance to him with the song Stronger (What Doesn't Kill You) by Kelly Clarckson, they place fourth on that week. During Week 6 they performed Adele's Set Fire To The Rain and Demi Lovato's Give Your Heart a Break. In week six's results, they placed in the bottom two and sung for survival against Diamond White with Mariah Carey's "Anytime You Need a Friend" and landed a spot in the Top 4.
In semi-finals the girls performed Anything Could Happen by Ellie Goulding, this was/is their most popular performance on the show, they also performed Impossible with solos in spanish by Camila, Lauren and Ally. After happily making it into the finals they performed Anything Could Happen for the second time as their "Song of the Series", their second performance was a duet with X Factor judge Demi Lovato with the song Give Your Heart A Break, their final song for the night was Let It Be by The Beatles. The last song they performed on the show was Christmas (Baby Please Come Home) on the final night. After the first round of the finals they did not receive enough votes from the public to get them to the Top 2, and they ended up coming in 3rd place on December 20, 2012.
Despite LA Reid and Britney Spears clearing not liking them at all during the competition, the Fifth Harmony girls wowed the public enough to get voted through every week and had the support and confidence of their mentor Simon Cowell , who adored them and never had a problem telling them how proud he was of them. On the X-Factor's website, it is shown that Fifth Harmony's guilty pleasures are junk food, candy, shopping, eating, swedish fish, and overplaying songs. After their journey on the show, the group was signed to Syco Music and Epic Records. This amazing group of girls is bound to make history, and have already blew the minds of their fandom with their covers of Frank Oceans's Thinkin Bout You, Lana Del Rey's American, Ed Sheeran's Lego House, Rihanna's Stay and Taylor Swift's Red. Their debut album is expected to be out on Fall, 2013.
Name Change
Originally called LYLAS (which means "Love You Like A Sister"), the girls found themselves in a dispute with another girl group called The Lylas, which consists of singer Bruno Mars' four sisters, forcing them to change their name. For their first live show, the girls went with the name 1432 (which means"I Love You Too"). However, after choosing them as a part of the Top 12, Simon Cowell told them that he hated the name and that the public would decide what they would be referred as. They revealed their new name, Fifth Harmony, on November 7th, 2012.
Despite them being a group put together by the show, the girls' willingness to work hard as a group and their personal friendship has endeared them to people, earning them a very devoted fan base known as "Harmonizers".
Debut Album (2014)
Main Article:First Studio Album
Julian Bunetta, who is the main producer on this project, said on Twitter that the debut single would be out on June. On the first week of June, Fifth Harmony announced on their Official Twitter Account that on June 7th, 2013 they were going to make an special announcement, specifically on Friday because it is part of one of their "Fifth Harmony Fridays". Hashtags like #5HAnnouncementFriday, #5HDreamBeginsFriday and #5HTheDreamBegins6713 were trended by Harmonizers. The main single will be out on June 15th, 2013. The album is expected to come out sometime in early 2014.
Individual Beginnings
Dinah Jane began singing in her church at age four, while Camila didn't start until the seventh grade. Normani first performed as a dancer at age three and Lauren's public debut came in the fifth grade, where she sang the national anthem for her whole school. As for Ally, who was born premature at 1 pound 14 ounces, she simply says she came out singing!
Influences
The girls of Fifth Harmony each bring something unique to the table , and their influences reflect that diversity. From crooners like Frank Sinatra and Josh Groban for Ally, to songstresses like Christina Aguilera, Beyonce and Whitney Houston for Dinah Jane, Lana Del Rey and Justin Timberlake for Lauren, Beyonce and  Ciara for Normani and famous popstars like One Direction and Demi Lovato for Camila.
Members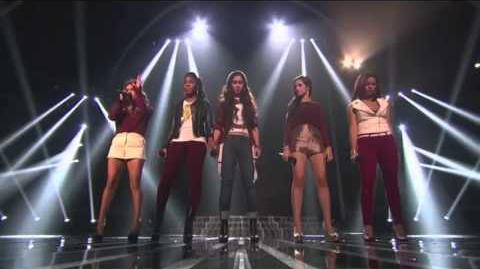 Accounts
Gallery