Home
Talk

1
264pages on
this wiki

Welcome to the wiki!


Please visit the Guide before getting started on the wiki!
| | | |
| --- | --- | --- |
| " | When we sang 'Impossible' something clicked for me, like I started crying because I knew, I felt it in my heart that we were supposed to be together and that it was meant to be. - Lauren Jauregui | " |
5,374 Articles ♦ 11,902 Edits ♦ 33 Active Users ♦ What's your favorite 5H Song? Click here to vote for your fave!
ӇƠƜ ƖƬ ƛԼԼ ƁЄƓƛƝ
Camila Cabello, Ally Brooke, Normani Hamilton, Lauren Jauregui, & Dinah-Jane Hansen all originally auditioned for The X-Factor as solo artists, coming from different states around the USA. They all made it through to bootcamp, but were later eliminated. The judges didn't want to lose all of their talent, so they decided to bring them back into the competition by making them into a group, that's how Fifth Harmony was created, originally with the name LYLAS and later 1432. Ever since then, they have been performing great songs and dances on The X-Factor stage. They ended up in third place on the show. They're signed to Syco Music and Epic Records. Their debut single is called Miss Movin' On!
ƊƖƊ ƳƠƲ ƘƝƠƜʡ
...that Fifth Harmony was created on July 27th, 2012 as LYLAS, October 31th as 1432 and finally at November 7th as Fifth Harmony
...Fifth Harmony's first single is Miss Movin On
...Fifth Harmony has won every single PopDust and BillBoard poll they were in
..."Friends" is one of Ally's favorite TV Shows
...when she was 6 years old, Camila moved to United States
...Dinah's favorite song by Ed Sheeran is Kiss Me
...Lauren would like to do a collaboration with David Guetta
...Normani loves chicken nuggets
...Ally loves Selena Quintanilla Perez
...Dinah's favorite TV Show is "Vampire Diaries"
...Lauren goes to a private school
...Simon calls Ally "Rudolph"
...5H performed "I Wanna Dance With Somebody" at the judges houses
...Simon said if Dinah didn't mess up her lyrics in "Stronger" against Diamond, she could've been a solo artist
...When Normani saw Lauren, she thought, "OMG it's Megan Fox"
...Normani and Ally can hit whistle notes
...Dinah is 5'8
...Camila said "pry" instead of cry, when she said her speech to introduce Demi Lovato
...5H used to pray before they performed on stage
...Ally and Normani both lived in Texas
...Dinah wants to switch lives with Lauren because of her beautiful eyes
...Normani wants to switch lives with Camila because of how she speaks spanish
...Ally wants to switch lives with Dinah to see what its like to live in a house with 20+ people
...Lauren wants to switch lives with Ally because she doesn't have school
...Camila wants to switch lives with Normani because she can dance
...Ally is the oldest but the shortest out of the group
...Dinah is the youngest yet she is the tallest out of the group
...Camila is the clumsiest 
...Normani laughs the loudest
...Fifth Harmony has done two covers with Boyce Avenue
...Fifth Harmony has done covers of the songs "Thinkin' About You", "American", "Lego House", "Stay", & "Red"
...Lauren is willing to try any food (She said she will even try Monkey Brain)
...Camila loves junk food. She doesn't like Salmon
ӇЄԼƤƖƝƓ ƠƲƬ
To create a new article, enter the title in this box:
ƑЄƛƬƲƦЄƊ MЄMƁЄƦ:
Camila Cabello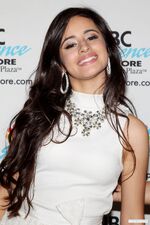 Camila Cabello's unique voice gives the group a raw edge that lifts their harmonies to new heights. Born in Cuba, Camila and her family shuttled between Havana and Mexico for the first five years of her life before Camila and her mother moved to the U.S. when Camila was six. (Her dad followed a few years later.) "My mom came with only a couple hundred bucks and the clothes on her back," Camila says. "My family brought me up to appreciate everything I had through hard work." Growing up listening to such Latin artists as Celia Cruz and Alejandro Fernandez, Camila kept her singing to the confines of her bedroom. "I didn't sing in front of people until my actual X Factor audition," she says. "I didn't want those two minutes to end. When they did, I knew performing was the only thing I could see myself doing for the rest of my life." Her favorite artists are Ed Sheeran and One Direction. (Read More)