The Harlem Shake is an Internet meme in the form of a video in which a group of people performs a comedy sketch accompanied by a short excerpt from the song "Harlem Shake". As a meme, the video was replicated by many people, using the same concept, and this rapidly led to it becoming viral in early February 2013, with thousands of "Harlem Shake" videos being made and uploaded to YouTube every day at the height of its popularity. The form of the meme was established in a video uploaded on February 2 by five teenagers from Queensland, Australia known on YouTube as The Sunny Coast Skate. The video started a viral trend of people uploading their own "Harlem Shake" videos to YouTube. The teenagers' video was, in its turn, a follow-up to a video by a YouTube comedy vlogger named Filthy Frank which featured a section where several costumed people danced to the song "Harlem Shake" by Baauer.
Fifth Harmony Relation
Edit
Fifth Harmony participated in a Harlem Shake video while they were with Fuse. You can see the first Harlem shake video of Fifth Harmony below.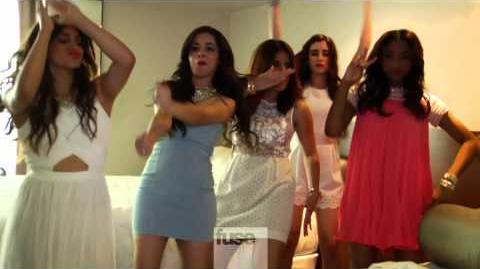 The second Fifth Harmony was uploaded on the Fifth Harmony Official Youtube Channel, you can see the video below.
Ad blocker interference detected!
Wikia is a free-to-use site that makes money from advertising. We have a modified experience for viewers using ad blockers

Wikia is not accessible if you've made further modifications. Remove the custom ad blocker rule(s) and the page will load as expected.