Miss Movin' On/Music Video
Music Video by Fifth Harmony
VEVO Premiere
July 15, 2013
Video Length
3:20
Recorded
2013
Directed By
Hanah Lux Davis
Chronology
Previous
None
Next
Me and My Girls
Gallery (images · videos)
The music video for Fifth Harmony's first single, Miss Movin' On was released on July 15, 2013 on VEVO.
Background
On the first day of filming the music video the girls were on a state fair and photos were posted by fans. Ally is seen wearing a green dress with a blue denim jacket and gold converse; Camila a white dress with white sneakers; Lauren wearing blue denim shorts, a black jacket and a white blouse with little black dots; Normani with a dress with various colors with gold conserve, and Dinah is seen wearing a pink blouse with pink pants with a black belt on it and black sneakers.
On July 15, 2013 the video was published through Fifth Harmony's official VEVO account. It was directed and edited by Hannah Lux Davis; produced by Luga Podesta and Brandon Bonfiglio. [1]
The video shows the five girls enjoying themselves at an amusement park together, all of them having recently broken up with their boyfriends.
Music Video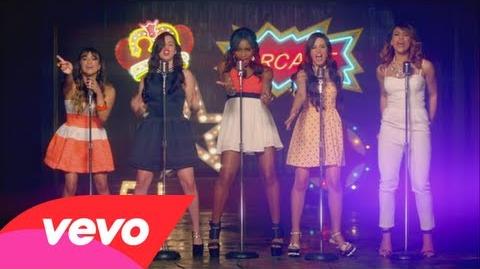 Plot
At the very beginning of the video the girls are seen throwing away things that somehow represent a relationship with a boy. Camila breaks into two parts a picture of her and her ex-boyfriend, Dinah changing her status from "In a relationship" to "Single," Lauren ignoring messages from her ex-boyfriend, Alex, Ally gets rid of a necklace, and Normani gets rid of a blue sports jacket.
After that they're seen singing on a stage and in a room with a white background and neon lights. They're also seen on a amusement park having fun representing that they're already over about what happened on their past relationships. Later, after getting off the Ferris Wheel, Lauren exchange glances with a boy wearing a yellow tank top with blue trims, a bright light blue cap, black pants, and white sneakers, and they decide to ride together, surprising her bandmates who give her surprising cheers and applause. At the very end of the video, the girls are together and having fun.
Trivia
Scott Seviour announced via twitter the VEVO premiere date.
The video was released on July 15.
The video has racked up over 10 million views on VEVO since it debuted. It reached the 1 million mark three days after it debuted.
References