They all auditioned as solo artists on The X Factor. They all made it through to Bootcamp but were later eliminated. The judges realized that they were losing a lot of talent. Ally Brooke, Camila Cabello, Dinah Jane Hansen, Lauren Jauregui and Normani Kordei were called back to the stage to bring them back to the competition as a group, and that's how it all started with LYLAS on a memorable date to the Harmonizers, July 27th, 2012. They changed their name to 1432 and finally Fifth Harmony.
Watch their journey on The X-Factor. (Thanks to FifthHarmonyCrew)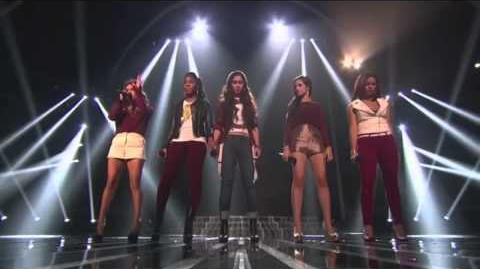 Performances
Edit
Judges HousesEdit
Live Show #1Edit
Live Show #2Edit
Live Show #3Edit
Live Show #4Edit
Live Show #5Edit
Live Show #6Edit
Live Show #7Edit
Live Show #8Edit
Note: The finalists were asked to perform what they found as their best performance of the season.
Ad blocker interference detected!
Wikia is a free-to-use site that makes money from advertising. We have a modified experience for viewers using ad blockers

Wikia is not accessible if you've made further modifications. Remove the custom ad blocker rule(s) and the page will load as expected.